Dental Implants — Gramercy Park, NY
Completing Smiles with Beauty & Function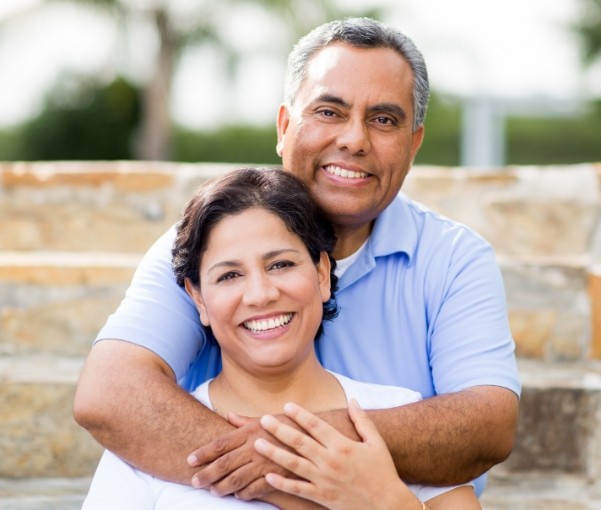 Missing teeth can seriously downgrade your quality of life. They may make it difficult for you to speak clearly and chew effectively, and they can cause embarrassment. Moreover, they could lead to serious oral health problems. Dentures and bridges are tried and true ways to fill in gaps in a mouth, but many dentists believe that dental implants are the best way to replace missing teeth. At Gramercy Dental Studio, we're proud to use this life-changing treatment to craft beautiful, strong smiles.
Why Choose Gramercy Dental Studio for Dental Implants?
Performs Entire Dental Implant Procedure In-House
Completes Advanced Preparatory Dental Treatments If Necessary
Reasonable Dental Fees and Affordable Financing Options Available
What Are Dental Implants?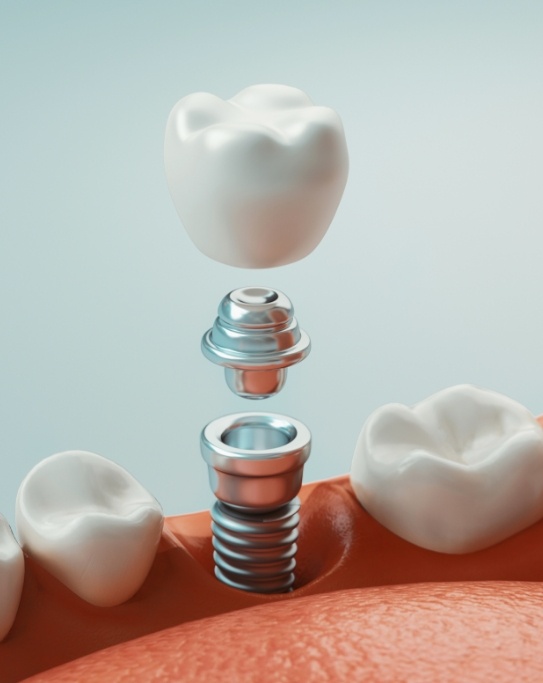 Dental implants are designed to replace teeth, which make up a crown (the visible portion) and the root (the pointed end that sits underneath the gums.) While dental implants are designed to replace teeth entirely, they are not made up of one solid component. In fact, they are made up of three, which includes the titanium post (that replaces the root) and the dedicated restoration (which can be a crown, bridge, or even a denture), and the abutment that attaches them together.
Once the post has been placed inside of the jaw and the gum tissue is sealed over it, it can begin healing and fusing with your bone tissue. Not only does this result in a smile that looks incredibly natural, but feels that way as well. This is one of the many reasons why more dentists are both recommending them and providing this service themselves.
The 4 Step Dental Implant Process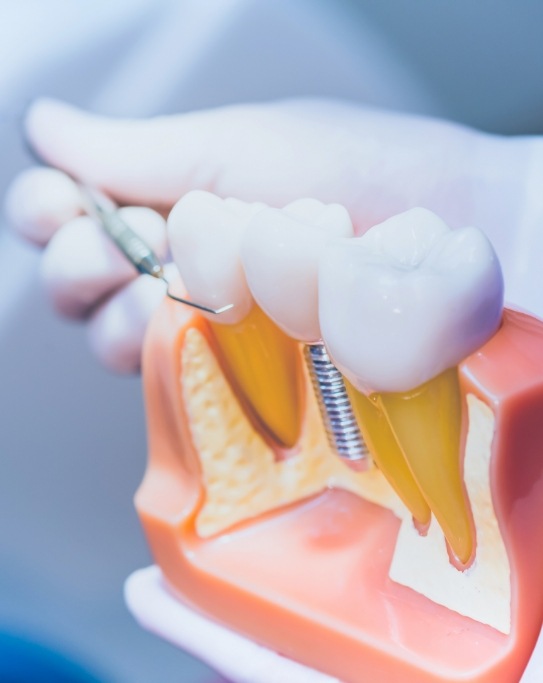 Learning how dental implants work in Gramercy Park is only part of the process at Gramercy Dental Studio. Dr. Newman and his team want you to feel confident and comfortable in your decision to move forward with this type of tooth restoration, which is why we've devoted time to further explaining the entire process and what you can expect each step of the way. You understand the cost, benefits, and alternatives to dental implants, but before you make that next step in your oral health journey, take some time to review the information on this page. Feel free to contact us about any additional questions you have or to let us know you're ready to schedule your consultation.
Initial Consultation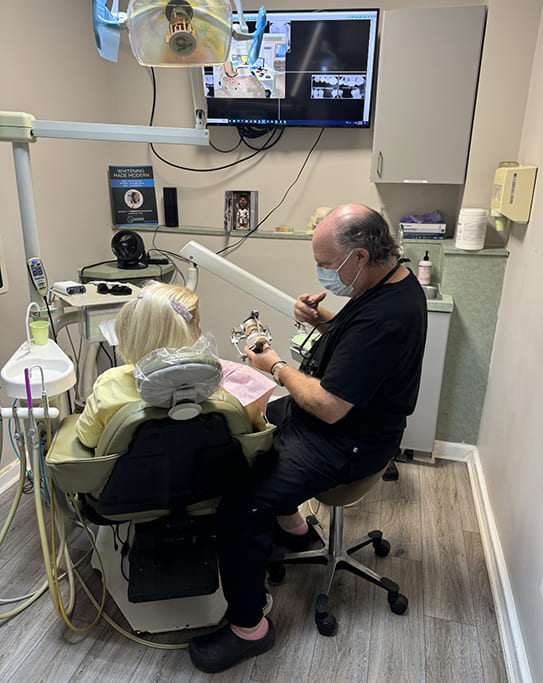 The consultation phase of dental implant placement is the most important, as this involves a meeting between you and Dr. Newman to discuss your goals and desired results, the dental implant process in Gramercy Park, treatment plan, and overall cost. Not to mention, this is the visit that includes a full examination of your smile to determine if you are a qualified candidate for dental implants. Evaluating your oral and overall health as well as your lifestyle habits and most importantly, your bone density, he will be able to determine if you can move forward with surgery.
Dental Implant Surgery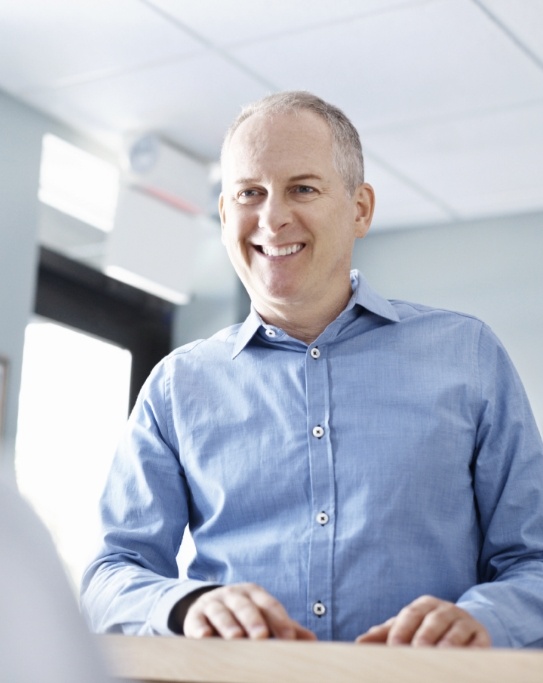 If given the green light for implant placement, Dr. Newman will begin by administering local anesthesia to make you comfortable throughout the procedure. He will first begin by making a small incision in your gums and exposing the jawbone. Depending on the number of implants you'll be receiving, you may need more than one incision along your arch. Carefully, he will position the titanium implant into your jawbone before closing up the surgical area. You'll then be sent home to spend the next 3-6 months healing.
Osseointegration & Abutment Placement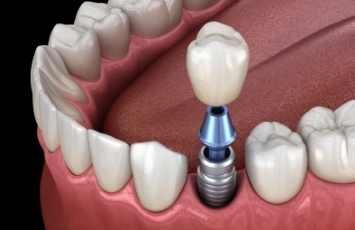 During your recovery spent at home, the implant(s) will fuse to the bone and surrounding tissues through a process known as osseointegration. It's important that this occurs successfully if you want a smile that lasts a long time. Once you've fully healed from your surgery, you'll return to our office to have your abutments put into place. These are small, metal appliances that attach to the top of your implant and connect to the custom restoration.
Delivery of Final Restoration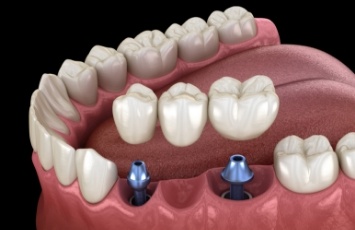 With everything now ready and in place, the final step in the process is to have your customized dental restoration added. This will complete your new and improved smile. Whether you're receiving a dental crown, implant bridge, or implant denture, your custom prosthetic will be matched to your natural tooth color, size, and shape, so that you have a uniform smile that looks and feels completely natural.
The ICOI Difference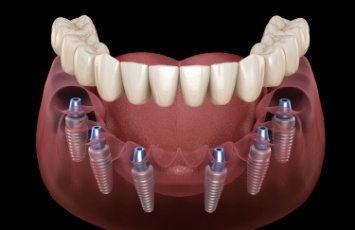 You want the very best for your dental implants in Gramercy Park, and that means visiting the very best team. Dr. Ira Newman is proud to be part of the International Congress of Oral Implantologists. This worldwide organization offers excellent implant education opportunities for specialists and dental professionals who are committed to staying on top of their game in implantology -- and that's definitely your dentist in Gramercy Park! Visiting Dr. Newman for dental implant placement and restoration helps to ensure that you receive the most state-of-the-art treatment and continuing care to meet your tooth replacement goals. And that is worth so much!
Benefits of Dental Implants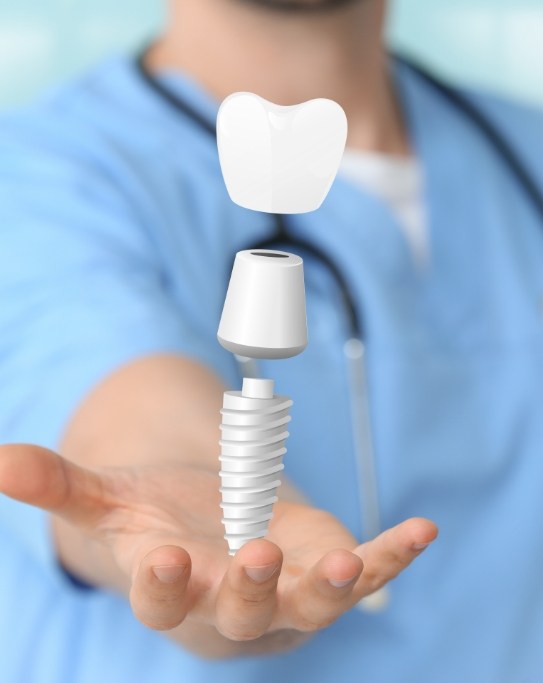 Did you know that more than 3 million people are already living with and enjoying the benefits provided by dental implants? These permanent prosthetics are uniquely designed to offer greater stability, functionality, and improved quality of life. Unlike other traditional tooth replacements (i.e., dentures, dental bridges), these implants can give you the aesthetics and confidence you need and deserve. At Gramercy Dental Studio, Dr. Newman will complete the entire implant process in-house, giving you a more convenient way to achieve a full, complete smile that can last a lifetime.
As you continue to learn more about the benefits of dental implants in Gramercy Park, consider the following advantages only these prosthetics can provide:
Day-to-Day Benefits
Health Benefits
Long-Term Benefits
Who Dental Implants Can Help
One of the reasons why Dr. Newman places and restores dental implants at Gramercy Dental Studio is that they are versatile. They can be used to replace one tooth, multiple teeth, or even entire smiles. This is why most adults experiencing tooth loss are eligible to receive dental implants. Their versatility makes it possible to replace all types of missing teeth and even if problems exist during the consultation phase, Dr. Newman will recommend preliminary treatments that can help create a healthier environment for thriving prosthetics once they're put into place. As a dental implant dentist in Gramercy Park, Dr. Newman is here to discuss your smile goals and will ensure you walk away with a healthy, confident smile.
Who is a Good Candidate for Dental Implants?
The first step in receiving dental implants in Gramercy Park is to schedule a consultation with Dr. Newman. It is during this visit that he will determine if you are qualified to move forward with dental implant surgery or if alternative treatments are needed first. You can expect him to examine the following:
Your oral health – Are your gums and oral cavity in good shape to receive dental implants? Are there signs of tooth decay or gum disease that need to be treated first?
Your overall health – Do you have an autoimmune disorder or another health condition that weakens the immune system and could potentially cause implant failure later on?
Your jawbone density – Is there enough jawbone to support your dental implants? If not, you will likely be required to undergo a bone graft or consider All-On-4.
Your commitment to oral hygiene – Are you committed to taking proper care of your dental implants once they are fully in place?
Many patients assume they are not eligible for this type of treatment. If you find yourself questioning your candidacy, the only way to know for sure is to let Dr. Newman examine your smile and facial structure. With the help of advanced technology, he and our team will get you the answers you need to move forward with a healthier, more beautiful, and fully functional smile.
You will find that in choosing dental implants, they are capable of treating all types of tooth loss, making them the gold standard for tooth replacement.
Missing 1 Tooth
With more than 120 million Americans living with at least one missing tooth, this problem opens the door to allow permanent prosthetics a chance to restore bite force, confidence, and speech. At Gramercy Dental Studio, we can replace a single missing tooth with one titanium post, a metal abutment, and a custom-made dental crown. Designed to mimic the natural tooth structure, the "root" will be surgically placed into your jawbone, which will fuse and create a solid foundation for your restoration. Once the crown is put into place, you will have a seamless, blended smile that looks completely natural.
Missing Multiple Teeth
Are you missing multiple teeth consecutively? We can use an implant bridge to fill the space in your smile while providing sturdy support from dental implants. Using implants on either side of the gap, we will anchor a custom bridge to complete your smile. The best part is that we won't have to alter any of your remaining natural teeth, which is the normal process for individuals receiving a traditional fixed bridge. But even if your missing teeth are not next to each other, we can have an implant partial created that will work just like the traditional kind, only it will be anchored to your implants and not with metal clasps or clips.
Missing All Teeth
If you're missing all or most of your teeth, you will benefit most from an implant denture. This solution combines the best of both worlds, allowing us to replace all of your teeth at once with the strength and health benefits of dental implants in Gramercy Park. Unlike regular dentures that only sit on top of the gums and require your natural suction to hold them in place, implant dentures make it possible to eat, speak, and smile with greater ease and confidence. You'll never need to feel self-conscious about eating in front of others again!
Alternatively, if you learn that your jawbone is too weak to receive dental implants and you want to bypass the need for a bone graft, it may be possible to receive All-On-4. This unique solution requires only 4 dental implants to secure a full denture. When placed strategically along the jawbone, we can ensure maximum support for a healthier, happier smile.
Understanding the Cost of Dental Implants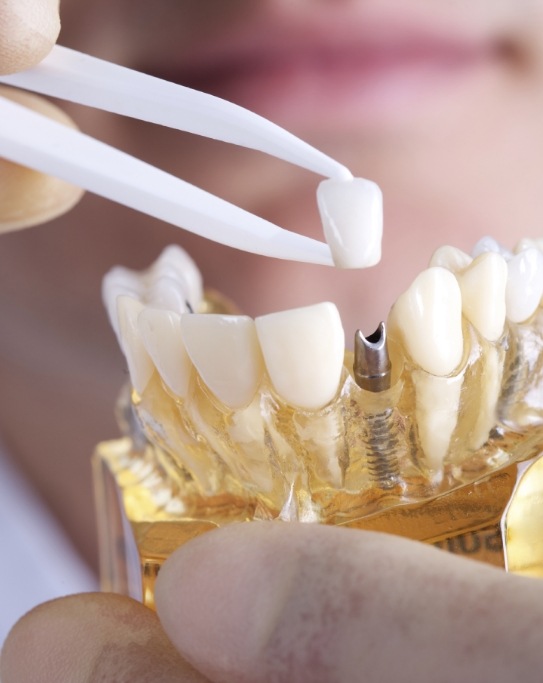 The cost of your implant treatment can vary due to the many factors that contribute to the process. The only way to receive a precise estimate is to schedule a consultation with your dentist in Gramercy Park. Dr. Newman will carefully examine the number of teeth you're missing, where you're missing them, the strength of your jawbone, and the condition of your oral health before developing a personalized treatment plan that includes a cost estimate. Additionally, the type of restoration that you need will contribute to the price of your overall treatment. Our friendly staff are experienced in maximizing dental insurance benefits and we even offer financing options to provide all of our patients with affordable dentistry.
Preliminary Treatments & Dental Implant Surgery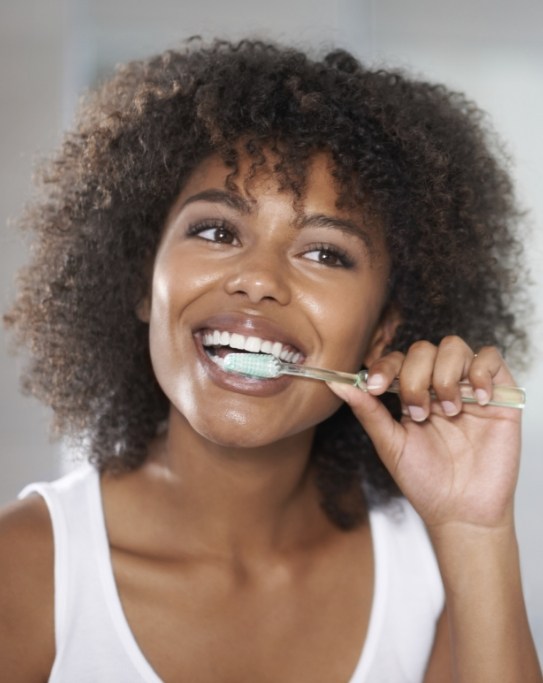 Each stage of treatment incurs its own cost, which is why it's important that you understand what to expect when preparing for your initial consultation.
Initial Consultation: From a full oral examination and impressions to a discussion about the process and receiving a cost estimate, your initial consultation is the most important aspect of treatment. You will meet with Dr. Newman about the possibility of receiving dental implants and learn whether you are a candidate or not as well as what to expect and how much your new smile will cost.
Surgical Placement: Naturally, the surgical placement of your implants requires a separate charge. Dr. Newman will need to place the designated number of implants into your jawbone, positioning them carefully to ensure the most effective placement for your new restoration. Once your implants are put into place, you will be sent home to recovery for 3-6 months.
Custom Restoration: Before you are finished with implant placement, you must receive your customized restoration. Created by dental lab technicians, your dental crown, implant bridge, or implant dentures will be crafted based on unique specifications to match the color, size, and shape of your natural teeth. This will create a uniform, blended look and feel.
Can Dental Implants Pay for Themselves in the Long Run?
In one word: yes. Dental implants offer far more benefits than any other restorative solution. From a longer lifespan (decades or more) to increased stability and functionality, you will not achieve the same level of security and flexibility with a traditional bridge or denture. Not only will your smile look and feel completely natural, but dental implants will also work to improve your oral health and prevent changes in your facial shape from occurring.
Does My Dental Insurance Cover Dental Implants?
More and more dental insurance companies are beginning to include dental implants in their coverage format; however, you must contact your insurer to find out how much, if any, of the treatment will be covered. If you've met your deductible and the treatment qualifies for coverage, your out of pocket expenses may be significantly less than previously believed.
If you still need assistance paying for the remaining balance, our team can work to identify additional financing options that will lower your cost into more manageable monthly payments.
Advanced Dental Implant Procedures
While dental implants are a popular and effective tooth replacement solution, not every man or woman with missing teeth is automatically a good candidate for implant treatment. This is especially true for those who have worn dentures or lived without teeth for years, as missing teeth can lead to jawbone deterioration over time. Without sufficient jawbone strength, dental implants are more likely to fail. Fortunately, Dr. Ira Newman has the skills, knowledge and experience to perform advanced dental implant procedures in Gramercy Park.
At Gramercy Dental Studio, having a weak or deteriorated jawbone does not necessarily disqualify you from getting dental implants. Advanced dental implant procedures such as bone grafts and sinus lifts can help rejuvenate patients' jawbones and prepare them for dental implant success! Learn more here about how bone grafts and sinus lifts can lay the necessary foundation for successful implant treatment.
Bone Grafting
If you have a weakened jawbone from years of missing teeth in Gramercy Park, you may be able to benefit from bone grafting, a specialized procedure which stimulates the body to generate new bone growth and to rebuild damaged or deteriorated bone.
Bone grafting involves placing processed bone minerals onto specific areas of the jaw where the bone is weakened. This grafting material stimulates the body to produce new bone cells in the area, thereby slowly building the jawbone back up to full strength.
Grafting material can come from several different sources, including:
The patient's hip bone or rear jawbone
A separate human donor
An animal source
Synthetic grafting material
If you undergo a bone grafting procedure at Gramercy Dental Studio, your jawbone will likely be fully healed in 3 to 6 months. Once your jawbone is sufficiently strong following a bone graft, you will be able to pursue dental implant treatment to restore your missing teeth.
Sinus Lift
Another common issue that often prevents men and women from being approved for dental implant treatment is not having enough bone to support a dental implant in the upper jaw. Fortunately, Dr. Newman can address this issue with a sinus lift, a surgical procedure that makes room near the molars and premolars for new bone by gently moving the sinus up and out of the way.
After an initial consultation, sinus lift surgery is typically completed in several steps:
Newman will first make a small incision in the gum tissue where your back teeth once were.
Next, he will open a small window in the underlying bone and gently push the exposed membrane away from your jaw.
The next step is to add bone grafting material where the sinus previously was in order to encourage new bone cell growth.
Finally, Dr. Newman will stitch the gum tissue closed and let the healing process begin.
Dental Implant Failure & Salvage
Dental implants have a very high success rate of 95% - even 10 years after they have been placed! However, there is still a rare chance of dental implant failure. If your newly rebuilt smile begins to feel uncomfortable or you're concerned about the well-being of your implants, give us a call. There may still be time to restore your smile with dental implant salvage treatment.
Dental Implant FAQs
Do you have more questions about getting dental implants in Gramercy Park? With Dr. Newman's years of experience paired with his advanced training, you'll feel confident that you chose the best restorative treatment for you. For your convenience, we've answered some common questions we receive from our patients below.
Will dental implant surgery hurt?
Dr. Newman makes sure that his patients feel comfortable and at ease throughout the entire process. That's why he uses the latest dental techniques and technology, including sedation and local anesthesia, to ensure that you won't feel any pain during the surgery. With the proper maintenance and a soft diet, you'll be able to make a quick recovery. If you feel any soreness or tenderness after the surgery, just be sure to follow the aftercare instructions we'll provide you with.
What is the recovery process for dental implant surgery?
Many patients are surprised to find out that the recovery period for dental implant surgery typically lasts between five to seven days until the symptoms subside. However, factors such as how many implants you have placed can change this.
On the first day of recovery, you'll likely experience some discomfort and swelling, but these are perfectly normal signs of your body healing itself. To speed up your recovery, be sure to leave the surgical areas alone, gently rinse with salt water twice each day, rest as much as you're able to, apply ice for swelling, and gently brush your teeth.
To help aid your recovery, it's a good idea to temporarily change to a soft diet for a few days. It's best to avoid any foods that are hard, sticky, spicy, and chewy to avoid damaging your healing surgical site. That's why we often recommend that patients go grocery shopping before their surgery to pick up items such as avocado, eggs, fish, noodles, oatmeal, and other softer foods.
If you have any questions or concerns about how your mouth is healing, don't hesitate to contact our office.
How long have dental implants been around? Are they safe?
The modern-day dental implant has been around for over 40 years. Countless studies have been completed and research has been collected on how this replacement procedure impacts patients' lives, and it has been proven to be completely safe! In fact, dental implant surgery is one of the safest procedures, and the implants themselves have heaps of preventive benefits, including keeping your jawbone from deteriorating.
How long does it take to get dental implants?
Every dental implant process varies from patient-to-patient depending on several factors, such as whether preparatory procedures are needed, how many missing teeth in Gramercy Park you have, or what type of restorations you're receiving. The best way to learn how long your unique process will take is to schedule a consultation with Dr. Newman. During your appointment, he'll outline each step of the process for you and answer any questions or concerns you may have.
Maintaining & Caring for Your Dental Implants
While other tooth replacement methods, like bridges and dentures, have to be replaced every 5 to 15 years, dental implants, on the other hand, have the potential to last upwards of 20 years. In some cases, they can even last the rest of a patient's life! Of course, in order for that to happen, you'll have to practice proper dental implant aftercare in Gramercy Park. The good news is that many of the same practices that help protect and preserve your natural teeth will also work on your dental implants.
Make Oral Hygiene a Priority
Just because your implant is immune to tooth decay doesn't mean that oral hygiene isn't still important. Your gums near the implant can still become infected by the bacteria in plaque, a substance made of bacteria and food particles that constantly forms in your mouth. This condition, known as peri-implantitis, can ultimately cause your implant to fail.
Luckily, you can largely avoid this issue by brushing your teeth at least twice a day and flossing at least once daily. To avoid damaging the implant prosthetic and irritating your gums, it's best to use a nonabrasive toothpaste and a soft-bristled toothbrush. If you're having trouble flossing around your implant restoration, you can use an interdental brush or a water flosser. Both get the job done while being easier for many people to handle.
Additionally, if you're not already rinsing with mouthwash every day, now is a great time to begin implementing that into your oral hygiene routine. Mouthwash kills germs in areas of your mouth that your toothbrush and floss can't reach. Just be sure to use a non-alcoholic mouthwash.
Protect Your Dental Implants
If you play football or some other high-contact sport, you are at risk for trauma to the mouth that could result in your implant becoming damaged and having to be removed. To protect your implant and the rest of your pearly whites, ask us about creating a mouthguard to wear during physical activity.
Your teeth and implant may also be at risk while you're sleeping. Many people unconsciously grind their teeth at night, a condition known as bruxism. Wearing a custom nightguard can protect your implant. It also protects your remaining natural teeth from chips, cracks, and wear.
Lastly, be aware of the habits you engage in with your implant. Munching on ice, biting your fingernails, opening packages with your teeth, and biting down on extremely hard foods like popcorn kernels and nuts can easily damage your implant.
Schedule Regular Dental Checkups
It should go without saying that a good oral care regimen should include regular dental checkups with Dr. Ira Newman. In addition to the checkups and cleanings that you normally receive, we'll evaluate your implant to make sure it's still functioning as it should be. We'll check for signs of bone loss and additional tooth loss that may indicate that another implant is necessary. The earlier we find problems like these, the easier they will be to treat.