Invisalign – Gramercy Park, NY
The Discreet Way to Achieve a Straighter Smile
If you're in need of orthodontic treatment but don't want to end up stuck with noticeable metal braces, Invisalign could be the subtle alternative you're looking for here at Gramercy Dental Studio. It is the ideal solution for many adults who want to maintain their professional appearance while they're undergoing orthodontic treatment. As a Silver level provider, your cosmetic dentist in Gramercy Park, Dr. Ira Newman, has already helped a high number of patients to take advantage of this innovative, discreet teeth straightening method. Could you be a candidate for Invisalign? Don't wait — contact us today to learn more.
How Does Invisalign Work?
Instead of using conventional brackets and wires, Invisalign in Gramercy Park relies on clear, customized aligners that gradually move teeth into their ideal position. The Invisalign process is simple — first, state-of-the-art computer imaging software will lay out your complete, personalized treatment plan, allowing the Invisalign lab to craft the perfect set of aligners. Then, you will wear each aligner for a certain amount of time (usually two weeks) before you switch to the next one. Dr. Newman will evaluate your progress during brief checkups every six weeks or so to ensure that everything's going smoothly. After your treatment period concludes, you'll need to wear a retainer so you can prevent your teeth from drifting back out of place.
What Are the Benefits of Invisalign?
Some of the most outstanding benefits of Invisalign include: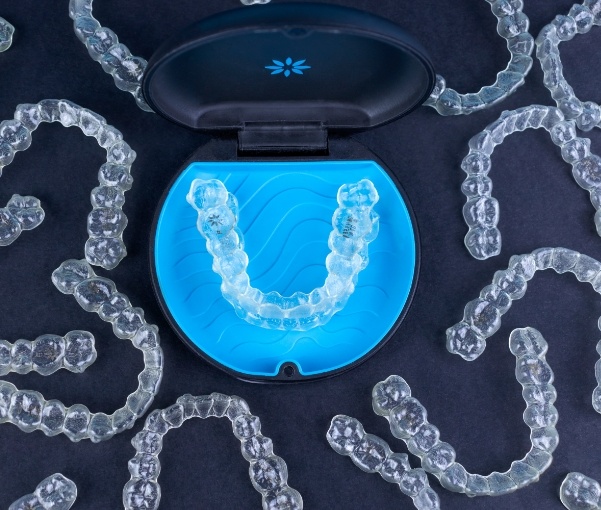 Invisalign will do more than give you more attractive smile. By moving your misaligned teeth into their proper places, it will lower your risk of tooth decay, TMJ problems, and other significant oral health problems.
The aligners are removable, which means you can continue eating all of your favorite foods throughout your treatment and brush and floss like normal.
The comfortable plastic material doesn't create the same oral irritation and discomfort that can occur with traditional braces. You won't even need to attend unpleasant adjustment appointments.
The aligners are discreet. Although they are not totally invisible, they won't be the first thing that other people notice about your appearance.
The average treatment time is faster than that of traditional braces. The average treatment time is about one year, but you may begin to notice a difference in your smile much sooner than that.
The experienced team at Gramercy Dental Studio will always be ready to help you if you ever have questions or concerns during your treatment.
Who Are Candidates for Invisalign?
Invisalign is able to address most types of orthodontic issues, including: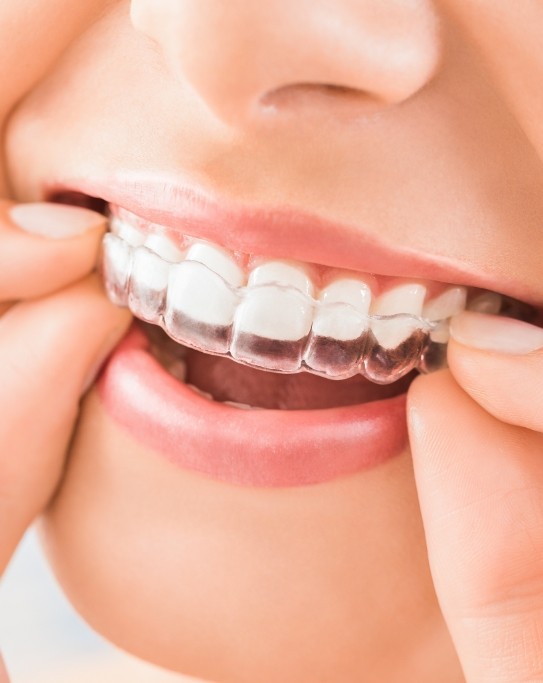 Gapped teeth
Crooked teeth
Rotated teeth
Malocclusion (overbite, underbite, and crossbite)
During your consultation, Dr. Newman will evaluate the specific nature of your dental misalignment. He'll also make sure you fully understand all of the pros and cons of Invisalign. Our team will provide you with an estimate of the cost of your treatment and help you explore payment options. Then, you and Dr. Newman can decide together whether you should move forward with the treatment. Most patients who decide to invest in Invisalign have no regrets about their choice!