Invisalign – Gramercy Park, NY
The Discreet Way to Achieve a Straighter Smile
If you're in need of orthodontic treatment but don't want to end up stuck with noticeable metal braces, Invisalign could be the subtle alternative you're looking for here at Gramercy Dental Studio. It is the ideal solution for many adults who want to maintain their professional appearance while they're undergoing orthodontic treatment. As a Silver level provider, your cosmetic dentist in Gramercy Park, Dr. Ira Newman, has already helped a high number of patients to take advantage of this innovative, discreet teeth straightening method. Could you be a candidate for Invisalign? Don't wait — contact us today to learn more.
How Does Invisalign Work?
Instead of using conventional brackets and wires, Invisalign in Gramercy Park relies on clear, customized aligners that gradually move teeth into their ideal position. The Invisalign process is simple — first, state-of-the-art computer imaging software will lay out your complete, personalized treatment plan, allowing the Invisalign lab to craft the perfect set of aligners. Then, you will wear each aligner for a certain amount of time (usually two weeks) before you switch to the next one. Dr. Newman will evaluate your progress during brief checkups every six weeks or so to ensure that everything's going smoothly. After your treatment period concludes, you'll need to wear a retainer so you can prevent your teeth from drifting back out of place.
What Are the Benefits of Invisalign?
Some of the most outstanding benefits of Invisalign include:
Who Are Candidates for Invisalign?
Invisalign is able to address most types of orthodontic issues, including: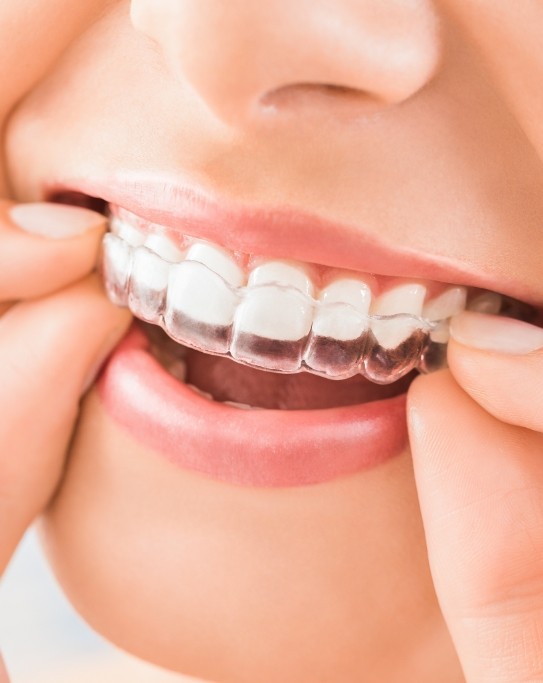 Gapped teeth
Crooked teeth
Rotated teeth
Malocclusion (overbite, underbite, and crossbite)
During your consultation, Dr. Newman will evaluate the specific nature of your dental misalignment. He'll also make sure you fully understand all of the pros and cons of Invisalign. Our team will provide you with an estimate of the cost of your treatment and help you explore payment options. Then, you and Dr. Newman can decide together whether you should move forward with the treatment. Most patients who decide to invest in Invisalign have no regrets about their choice!
Understanding the Cost of Invisalign
Factors that Affect the Cost of Invisalign
No designated price comes with Invisalign in Gramercy Park. Instead, you'll meet with Dr. Newman for an initial consultation. During this visit, he will determine how much your treatment will cost based on the following factors:
Do you need Invisalign for the top or bottom arch? Do you need aligners for both arches? If you only require treatment for one row of teeth, you can expect your cost to be much lower.
How complex is your case? If you need help to realign an overbite or open bite, it will likely require more time and money than if closing a small gap between teeth.
How long will your treatment last? If you need more aligners throughout your treatment, you can expect it to cost more overall.
Invisalign vs. Smile Direct Club™: Which Costs More?
Smile Direct Club might sound like the way to go, especially if you're looking at the price tag. It's hard to beat $2,000 when you're looking at the alternative, which is Invisalign that can come in anywhere between $3,000 and $8,000. However, before you pick up the phone to start dialing, t's important that you consider the following, as cheaper isn't always better:
With Smile Direct Club, you will not have a designated orthodontist, which means you will be responsible for making your own impressions. This can lead to inaccurate results and ill-fitting aligners.
With a DIY clear aligner kit, you will need to see a professional, local dentist if problems occur throughout treatment, which will cost more money.
With Smile Direct Club, you won't have anyone telling you if things are progressing as they should, so you run the risk of your smile being in worse shape than when you started.
By choosing Invisalign instead, you have the comfort and confidence knowing that your Invisalign dentist in Gramercy Park will be with you the entire time. Also, you'll have greater peace of mind knowing your aligners are professionally made, guaranteeing a smooth and comfortable fit as well as providing predictable results.
Does Dental Insurance Cover Invisalign?
As it is with the cost of Invisalign, no two dental insurance companies are the same, nor are their policies. While many do not provide orthodontic treatment of any kind, including Invisalign, you'll want to make sure you check with your individual insurance carrier to determine what they offer. If you are unsure where to look or who to contact, our team will be happy to do the work for you. In fact, we'll find ways to maximize your benefits and file any claims and paperwork on your behalf. If you have a Flexible Spending Account (FSA), it is advantageous that you use these funds to help pay for your Invisalign in Gramercy Park.
Invisalign FAQs
Invisalign in Gramercy Park is an excellent solution to get the straight smile you've always wanted, but Dr. Newman understands you have several questions about the treatment before you're ready to commit to it. That's ok. He takes the time to explain your treatment plan and address your concerns to help you make the right choice for your smile. In the meantime, here are a few answers to some of the top questions about Invisalign to help determine if it's right for you.
Why should I straighten my teeth?
Although you've always wanted to feel confident about your smile, you're not sure if you should spend the money on orthodontics. Did you know braces and clear aligners offer more benefits than just improved aesthetics? Correcting your bite and alignment is actually an investment in your dental health. Your teeth are easier to clean when they are in their ideal positions, decreasing your risk of tooth decay and gum disease. You also lessen your risk for several other complications, including dental emergencies, jaw pain, and unevenly worn teeth.
How long will I need to wear the aligners?
Typically, Invisalign provides a shorter treatment than metal braces. On average, you can expect to finish your series of aligners after 12 months; however, the duration is determined by your individual treatment plan. There are several factors that influence the length of time you need to wear them, such as the complexity of your case. Dr. Newman explains how long you can expect to need the aligners during your initial consultation.
How much does Invisalign cost?
There's no easy way to estimate how much you'll pay without first performing a consultation. Your personalized treatment plan determines the cost, such as how many aligners you need. It's often thought Invisalign costs more than metal braces, but this isn't necessarily true. There are several ways to keep your new smile affordable, such as using your dental coverage.
Many insurance policies that include orthodontia now cover a portion of the cost of the aligners. We work on your behalf with your insurance company to reduce the amount you need to pay out-of-pocket. We accept a variety of payment options to cover any remaining balance, such as third-party financing with CareCredit.
What happens if I break an aligner?
Your aligners are made from a thin, comfortable material. Although they are strong, they can break. If an aligner cracks, it's best to call our office right away. If you have only been wearing it for a couple of days, you may need to have it replaced. If it's almost time to switch to the next one, Dr. Newman may just have you progress to a new aligner.
You can help reduce the risk of an aligner breaking by handling them carefully. Use two hands when removing and inserting them. Always keep them in their protective case if they aren't in your mouth.
If you still have questions about Invisalign, don't hesitate to contact our office. Schedule a consultation with your dentist in Gramercy Park today!