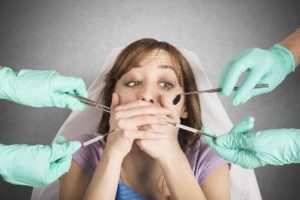 There it is on your calendar. You had been trying not to think about it, but then a new month started and all the sudden it's staring you in the face every day – the quickly approaching date of your dental appointment! With the daily reminder that you have to do one of your least favorite things soon, you have a terrible sense of dread that you just can't shake.
Can you relate to this scenario? If so, you're not alone. Dental phobia affects many people and can make getting necessary care from a dentist in Gramercy Park very difficult. Some people even avoid getting the care they need altogether. In this blog, we'll address five of the most common fears people have and explain how relaxation dentistry and other treatments can help you overcome them. Keep reading to learn more!
Five of the Most Common Fears
Too Much Sensory Stimulation – It's not uncommon to feel overwhelmed from seeing all the instruments or hearing noise during a dental procedure. It's as if your brain is working in overdrive, amplifying every aspect of the experience.
Gag Reflex – A gag reflex is your body's way of saying, "I need to swallow, but I can't!" It involves the muscles in the throat and is completely involuntary, but that doesn't mean it's untreatable.
Past Negative Experience – If you've had a traumatic experience in the dental chair, even if it was decades ago, it's very hard to forget! In fact, this situation is similar to post-traumatic stress disorder, or PTSD.
Pain – Trying to get through a dental appointment when you're anticipating pain at every turn is not an easy thing to do!
General Anxiety or Fear of Losing Control – Sometimes patients have a hard time pinpointing the exact source of their anxiety or simply don't like feeling a loss of control.
If you experience any of these feelings before or during dental work, rest assured – there are safe, reliable ways to eliminate your fear!
How Can You Get the Dental Work You Need Without Fear?
By seeing a compassionate, caring dentist who has experience treating phobic patients, you can get the dental work you need without the anxiety. Here are just some of the ways they can help you overcome your fear!
Relaxation Dentistry – By taking a prescription medication to relax you beforehand, you'll feel incredibly calm and worry-free throughout your appointment. Even though you'll be awake and conscious, this medication will greatly reduce any anxiety you have and can even reduce your gag reflex.
Nitrous Oxide – Also known as "laughing gas," you'll breathe nitrous oxide through a nosepiece during your appointment and will feel completely comfortable and at ease while in the dental chair.
The Wand – This tool is an incredibly helpful device that makes getting numbed practically pain-free.
With these options, you can get the dental work you need – safely and comfortably every time!
About the Author
Dr. Ira Newman is a general, restorative and cosmetic dentist who always makes sure his patients are comfortable before, during and after dental treatment. With 20 years of experience, he uses the best medications and techniques, along with a reassuring chairside manner, to put even the most phobic patient at ease. If you have any questions, he can be reached via his website or at (212) 924-6890.