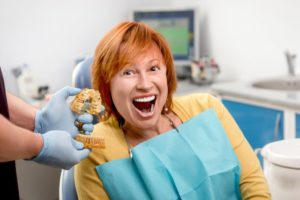 Do you procrastinate about visiting your dentist in Gramercy Park for preventive care? Does it seem like a waste of time? If so, then you may want to keep reading as your local dentist explains the purpose of these visits and the possible consequences of not maintaining them. By the end, you'll have the information you need to develop a new outlook on your oral health.
What Happens at Preventive Care Visits?
When you visit your local dentist for preventive care, here are the two main functions that are carried out:
Cleaning – One of the first people you'll meet at the dentist's office will be the dental hygienist. He or she will perform a thorough cleaning of your oral cavity to remove any lingering plaque and tartar.
Examination – Following the cleaning, you'll be examined twice – once by the hygienist and then by the dentist. Your hygienist's examination helps to identify any cavities or signs of other oral maladies, while your dentist will be looking for such things as jaw alignment issues and signs of oral cancer.
These two functions give patients the advantage of both having a clean slate to work with and knowing the status of their oral health. Thus, they can make educated decisions moving forward.
Oral Problems That Can be Prevented
The inside of your mouth is a very dynamic and volatile environment. There are always bacteria present looking for food to feed on. As they cling to leftover food particles, they begin to grow and release acids that corrode the enamel of your teeth and start a chain-reaction of events, which can include:
Cavities
Bad Breath
Gum Disease
Toothache
Tooth Loss
Preventive care visits to your dentist help to protect against these problems by creating a healthier environment inside the mouth that makes it harder for bacteria to survive in.
It's Bigger Than Just Oral Health
Missing visits to your dentist can disrupt more than just your oral health. The mouth serves as a window to the rest of the body, so when your oral health isn't up to par, the effects can be seen in other areas.
Here are some examples of serious health problems that poor dental health can contribute to:
Heart Attack – Severe plaque buildup in the mouth can filter down to the arteries and can lead to a blockage and possibly a heart attack.
Pancreatic Cancer – Researchers have also found a link between severe oral infection and pancreatic cancer, as the inflammation caused by poor oral health spreads throughout the body.
Alzheimer's Disease – Not only does blood flow down from the gums, it also travels up to the brain. Thus, inflammation and plaque can contribute to the development of Alzheimer's disease, a neurological disorder that causes severe memory loss.
These problems, again, can be prevented by visiting your dentist semi-annually for preventive care visits. To get on track with creating better oral and overall health, reach out to your dentist to schedule a visit today.
About the Author
Dr. Ira Newman earned his dental degree from Emory University School of Dentistry. In his postgraduate capacity, he has received training from such prestigious institutes as the Dawson Center for Advanced Dentistry and the Spear Center for Clinical Excellence. Dr. Newman uses his vast knowledge and experience to provide patients with the best preventive care possible at Gramercy Dental Studio. He can be reached for more information through his website.