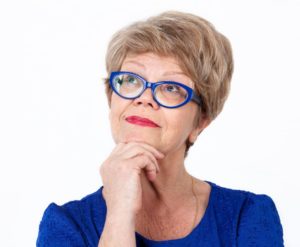 No longer are traditional dentures the only way to replace your missing teeth. With dental implants in Gramercy Park, you now have a way to regain the full function of your teeth and the look of a complete smile in a more secure manner, but there's one problem – you're not sure if you can afford the procedure. Furthermore, you're wondering if it's worth the investment. Your implant dentist provides the clarity you need as you continue reading.
Why are Dental Implants Better Than Dentures?
Dental implants are superior to dentures because they attach beneath the gums to provide a level of stability that is unmatched by any other form of restoration. The implant is typically made of high-grade titanium material that is biocompatible, meaning your body won't recognize it as a foreign object. Because of this, the titanium post fuses with the bone over time to form a sound foundation.
Here are some other benefits that patients enjoy:
A natural-looking smile
Securely-fitting prosthetics
Jawbone support and the prevention of bone loss
The prevention of premature wrinkles that come with facial collapse
How Much Does an Implant Cost?
On average, a single implant can cost between $1,000 and $3,500. To get an accurate price, though, you'll need to visit your dentist to undergo a full examination. Because the implant procedure is highly customized, this is the only way to determine what your investment will be.
While visiting your dentist, the following factors will be considered:
How many teeth are missing?
How much healthy bone is available?
What is the condition of your overall health?
What is the condition of your oral health?
Once a full assessment has been made, you'll sit down with the professional and go over what was discovered along with the recommendations for treatment.
Are There Alternative Options for Payment?
Generally, dental insurance will not pay for dental implants, but slowly, more carriers are starting to cover portions of the procedure. To find out for sure, you'll need to contact your dental insurance company.
Meanwhile, there are alternative forms of financing available, one being CareCredit. This is a type of credit card that is reserved for out-of-pocket dental fees, and it's accepted by the professionals at Gramercy Dental Studio.
Are Dental Implants Worth the Investment?
If you're looking for a form of teeth replacement that can last up to a lifetime, then the dental implant procedure is worth considering. As mentioned above, it has a unique feature that separates it from other forms of teeth replacement in that it addresses the main problem – the missing teeth roots.
In doing so, it leaves you with a since of security, functionality and aesthetic-appeal that is unmatched. To schedule a consultation, reach out to your dentist in Gramercy Park today.
About the Author
Dr. Ira Newman earned his dental degree from Emory University, and he has received advanced postgraduate training from Dawson Center for Advanced Dentistry and the Spear Center for Clinical Excellence. Dr. Newman helps patients live richer lives by replacing their teeth with dental implants at Gramercy Dental Studio, and he can be reached for more information through his website.