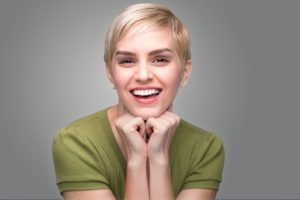 You just had your teeth whitened, and you want to ensure they stay bright and shiny for a long while, right? Well, you might be surprised to know there are foods that are perfectly fine to eat as well as some you should absolutely avoid. You don't want to sabotage your teeth whitening in Gramercy Park, do you? Take a look to find out which foods can shorten the lifespan of your newer, whiter teeth, and which ones can keep your pearly whites sparkling.
Can Professional Teeth Whitening Really Make My Smile Brighter?
Absolutely! Teeth whitening is a great solution for anyone looking to hide impurities and imperfections found on the surface of your teeth. If you're tired of buying over-the-counter whitening kits that don't provide lasting results or cause your teeth to become overly sensitive, talk to your cosmetic dentist in Gramercy Park about professional teeth whitening.
In just one visit, you will notice a significant difference in your smile – up to 10 shades brighter! Not only will you save time, but you will save your teeth from the harmful products found in store-bought whitening kits that can cause your teeth to become extra sensitive.
How Long Will My Results Last?
With in-office treatment, you can expect your results to last months or even years, as long as you take proper care of your new, whiter and brighter teeth. Apart from brushing your teeth twice a day, flossing at least once a day, and scheduling regular visits with your dentist, you'll want to be sure to stay away from certain foods and drinks that could diminish the look of your smile and shorten your teeth whitening lifespan.
Food to Avoid
Tea, coffee, or any colored beverages
Soy sauce
Red meat
Chocolate
Colorful fruit (except bananas)
You'll also want to avoid smoking, as it is not only harmful to your overall health, but it can stain your teeth and weaken your body's immune system. This means, you'll be less likely to be able to fight off any infections.
Foods to Eat
Before you get upset with the list of foods to avoid, you can expect your dentist to give you the green light to eat any of the following foods.
Skinless turkey or chicken
Potatoes
White pasta, rice, and fish
Cereal
White wine or other clear alcohol
Bananas
Low-fat, white yogurt
White cheese
Egg whites
Cauliflower
Skim milk
Tonic and still or sparkling water
If you're looking to get the most out of your teeth whitening treatment, make sure to adhere to your dentist's orders when it comes to what to eat and drink. Your pearly whites are worth showing off, so don't let a few bad food choices ruin your bright, shining smile.
About the Author
Dr. Ira Newman earned his dental degree from Emory University School of Dentistry before training at NYU College of Dentistry/Bellevue Hospital Center, completing a one-year residency. Offering a personalized, guilt-free dentistry environment, he and his team will ensure you are comfortable and relaxed during your visit. From preventative dentistry to cosmetic treatments, Dr. Newman can give you the smile makeover you've been wanting for years. You can visit our website or call (212) 924-6890 to learn more.