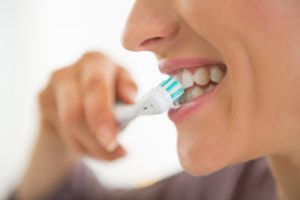 With so many people working from home during the COVID-19 pandemic, now is the perfect time to better your oral hygiene habits. Without the hustle and bustle of a regular schedule, you can reevaluate and focus on your oral health and perhaps even rekindle some practices that have fallen by the wayside. Your dentist in Gramercy Park has some tips to supplement your daily oral hygiene regimen and bring your dental health to the next level.
More Frequent Hygiene
Spending so much time at home gives you easy access to your bathroom sink and means that you have the opportunity to brush and floss more often than you would on a normal workday. When it comes to additional home care, you might consider:
Brushing Your Teeth After Every Meal: More frequent brushing helps to keep your teeth as clean as possible and prevents plaque from lingering on your teeth and hardening into tartar. This staves off the risk of developing gum disease and keeps your breath fresh.
Make Mouthwash a Part of Your Routine: The benefits of mouthwash are well-documented. When paired with proper brushing and flossing, mouthwash can help clear your mouth of harmful bacteria, give you fresh breath, and help to prevent cavities from growing.
Use a Water Flosser: Water flossers, commonly known by the brand name Waterpik, are excellent for your oral health. They are able to get deeper underneath the gum line than traditional floss, clearing away particles and debris that you normally can't reach.
While simple, these techniques and tips can do wonders for your health. Take the time to put more focus on your oral hygiene and both you and your dentist will see the results.
Healthy Eating Habits
Brushing and flossing are the bedrock of oral hygiene. However, you also want to focus on choosing foods and drinks that are beneficial for your oral health. For example, consider snacking on fibrous foods like apples and celery when you're hungry. Foods like these can help to remove plaque from your teeth while you chew.
You may also consider eating foods that are high in protein and calcium, such as cheese and nuts, which can help to strengthen and protect your teeth. Additionally, try to avoid sugary, acidic drinks, as they can erode your enamel and put your teeth at risk for decay and cavities.
By stepping up your level of oral homecare, you are setting yourself up to keep smiling for years to come. Through more thorough brushing and flossing, as well as being selective about what you eat and drink, you are protecting your teeth from plaque, cavities, decay, and periodontal disease. Upgrading your level of oral hygiene can be fun and beneficial to both your oral and overall health.
About the Author
Dr. Ira Newman loves teaching his patients the value of good oral hygiene. After graduating dental school from the Emory University School of Dentistry, he has spent years continuing his education to be able to provide the best for his patients. He has trained at the Dawson Center for Advanced Dentistry as well as the Spear Center for Clinical Excellence, both of which are revered in the dental field. Dr. Newman enjoys it when patients leave his office with the type of smile they never thought they could achieve. If you'd like to learn more about how you can upgrade your dental hygiene at home, he and his team at Gramercy Dental Studio are just an email or phone call away at (646) 969-9086.