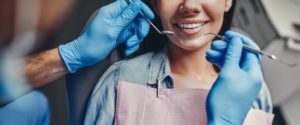 You've taken every precaution to keep yourself healthy during the COVID-19 pandemic. From social distancing and quarantining to practicing excellent hand hygiene, your safety has been your top priority. Now that dental practices have started to reopen, your safety is their top priority too. There is nothing "business as usual" about how offices are responding to the pandemic. Your dentist in Gramercy Park is going the extra mile to keep their patients safe and healthy.
Safe from Head to Toe
Your dental team wants to take every measure to prevent disease transmission. Dentists, hygienists, and assistants always wear masks and gloves to protect you during your treatment but are now taking things a step further. Every member of the clinical team will be double-masked at all times. Additionally, practices are also using FDA Approved PET face shields and surgical gowns and hats as extra protection to drastically reduce the spread of potentially harmful airborne microorganisms. The front desk team will also be masked and, sadly, will not be able to give their patients handshakes and hugs for the time being.
Restructured Appointments
Practices want to make sure that you can get the care you need while limiting your exposure to other people. Due to this, they are sequencing their appointments to have a minimal amount of people in the office at a time. Additionally, these appointments are longer to make sure that you can get the dentistry you need completed without having to book several appointments.
Changes have also been made to the waiting area in many practices. The number of available chairs has decreased and they are all spaced at least 6 feet apart. They are also void of magazines, periodicals, and other shared materials. This helps patients to social distance and keep each other healthy.
Healthy Teams & Practices
Each member of your dental team receives a health check at the start of each day. This consists of a no-touch temperature check and a list of questions to make sure that the likelihood of their COVID-19 exposure is minimal. Patients also receive this same test before their appointment. Team members also change into and out of their newly cleaned scrubs at the office, negating the possibility of outside contamination.
Cleaning protocols have also been updated. After each appointment, every single exposed surface in the operatory and each dental instrument is thoroughly sterilized according to the guidelines set by the CDC. From the countertop to the dental chair, every surface will be completely clean. At the end of the day, the entire office receives a deep cleaning to guarantee that it is completely safe for the next day.
Dental teams are not messing around when it comes to protecting you from the coronavirus. They are taking every precaution to give you the high-quality care you've come to expect while helping you to leave the practice even healthier than when you came in.
About the Author
Dr. Ira Newman is dedicated to helping his patients stay healthy. He is a graduate of the Emory University School of Dentistry and has made it his mission to continue his education and stay at the forefront of the dental field. He was a Clinical Instructor in the Department of Prosthodontics and Restorative Dentistry at NYU College of Dentistry and is now an attending dentist at Northwell Hospital. He has trained at prestigious dental facilities like the Dawson Center for Advanced Dentistry and the Spear Center for Clinical Excellence. To learn more about what he and the rest of the team at Gramercy Dental Studio are responding to the pandemic, give the office a call at (646) 969-9086 or send them an email.