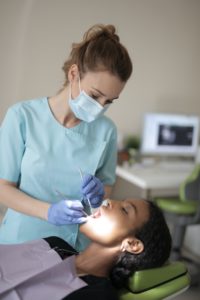 Coronavirus has changed your life in many ways over the last several weeks. From wearing masks to spending more time at home, your life is looking different. Your dental care isn't an exception. In fact, your dentist in Gramercy Park has implemented several changes to help combat the spread of COVID-19. Besides revamping their disinfecting standards and wearing personal protective equipment, your dentist will also ask you to use a special mouthrinse before your appointment. The goal isn't minty fresh breath. Instead, it's a small step for a cleaner mouth to keep your dental team safe.

Can Mouthwash Kill Coronavirus?
There's still much to learn about COVID-19, but researchers are conducting new studies every day, like the role mouthwash can have on killing the virus. Since mouthwash can kill harmful bacteria in the mouth, it's normal to assume it might have some effect on neutralizing the virus. Although few studies have been performed on coronavirus and mouthrinses, there has been research on similar viruses.
Researchers have found certain ingredients in mouthwashes can temporarily kill bacteria and viruses in the mouth. While it's not a substitute for a face mask, it can make your mouth cleaner to reduce your dental team's potential exposure to the virus during your appointment. Even if you're not showing any signs of illnesses, a mouthrinse is a safety measure your dentist will take to help combat the spread of the virus.
What Can I Expect During My Appointment?
As dentists across the country reopen their doors for routine services, you can rest assured the office is the cleanest place you'll visit all day. Your dentist has revamped their dental safety protocols in Gramercy Park to create a sterile environment for patients.
Upon arriving for your visit, you might be asked to remain in your vehicle until it's time for your appointment. After a brief patient screening and noncontact temperature check, you'll be escorted to the clinical area, where you'll be asked to brush and floss your teeth. Afterward, you'll use a mouthrinse for about 30 seconds to kill harmful pathogens that might linger in your mouth.
Your dental team will perform the services you need while keeping your safety a top priority. You can rest assured knowing any equipment, surfaces, and instruments have been properly disinfected. Your dentist and their staff will also utilize the recommended personal protective equipment to help prevent any cross-contamination.
Get the Safe Dental Care You Need
We live in uncertain times, but the services you receive from your dentist shouldn't add stress to your day. Your dentist is going the extra mile to keep patients safe amid the COVID-19 crisis. Although a mouthwash may not seem like much, it can have a significant impact on curving the coronavirus pandemic.
About Dr. Ira Neman
Dr. Ira Newman earned his dental degree from Emory University School of Dentistry. He regularly continues his education to provide modern dental care from a convenient location. He's updated his dental safety protocols to keep patients and staff safe during the COVID-19 pandemic. If you have any questions about our safety standards, or you need an appointment, contact our office today.