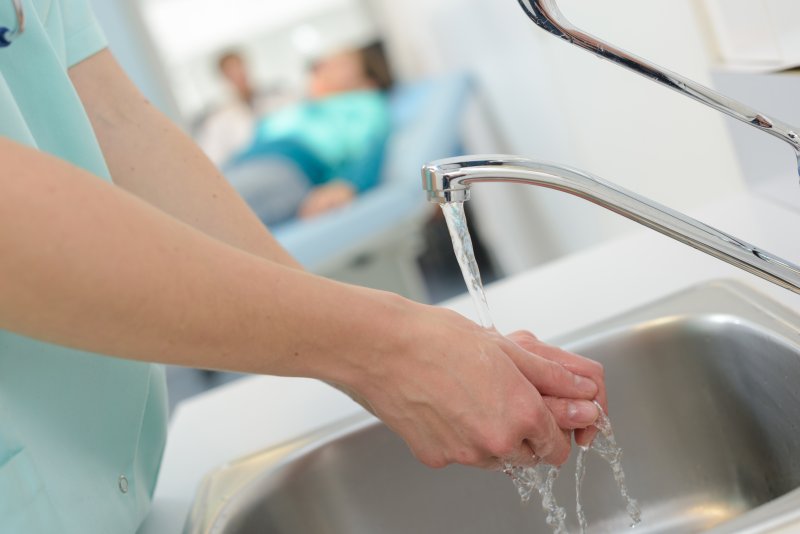 Since the start of the COVID-19 pandemic, our world has changed in more ways than one. In fact, social distancing guidelines, stay-at-home orders, and face coverings are just a few of the measures being implemented in the name of infection control. While research is still being conducted on the novel Coronavirus, experts at the Centers for Disease Control and Prevention (CDC) have remained adamant that frequent, thorough hand hygiene is crucial to flattening the curve. Therefore, your dentist in Gramercy Park is taking their already high standards to the next level by implementing additional sanitation measures to keep their hands germ-free. Curious what they are? Read on!
Offering Contactless Greetings
At your last appointment, you probably wouldn't think twice about greeting your dentist with a warm handshake. However, in light of the current pandemic, the CDC and World Health Organization are asking the public to use minimal to no contact greetings instead to prevent the potential transmission of the virus. After all, a recent study published by the Harvard Medical School found that up to 5 million bacteria can live on each hand at any given time! To prevent these microorganisms from spreading, opt for a celebratory air high-five or friendly wave instead.
Implementing Additional Personal Hygiene Standards
To ensure their hands remain germ-free after extensive washing, dental teams are implementing extra personal hygiene standards. In addition to removing their work clothes at work, dentists, dental hygienists, and office staff are:
Keeping their hair short or tied back.
Maintaining short fingernails.
Forgoing all unnecessary jewelry (i.e., watches, bracelets, etc.).
Introducing New Sanitation Measures
Before COVID-19, your dental team followed safety and sanitation standards set forth by the CDC and Occupational Health and Safety Administration. While these protocols continue to play a role in proper infection control and avoiding cross-contamination, dentists across the U.S. are introducing additional sanitation measures to keep their hands clean and virus-free. Therefore, you can expect:
Hospital-grade hand sanitizing stations strategically placed throughout the office.
Cleaning after each appointment.
A deep cleaning every evening.
Additional personal protective equipment (i.e., face shields, disposable coats, etc.).
Advanced chairside suction.
HEPA air filtration.
To prevent the transmission of COVID-19, it is more important now than ever that proper hand hygiene is followed. By incorporating the above three measures, dental teams can keep their hands germ-free and sterile at every appointment. That way, you can get the oral care you need without compromising your safety!
About the Author
After earning his undergraduate degree from SUNY-Binghamton, Dr. Ira Newman received his dental degree from Emory University. From there, he received training at the world-renowned Dawson Center for Advanced Dentistry and the Spear Center for Clinical Excellence. Today, he is a member of multiple reputable organizations, including the American Dental Association and the Academy of Cosmetic Dentistry. If you would like additional information on dental safety protocols in Gramercy Park, please visit his website or give him a call at 212-924-6890.