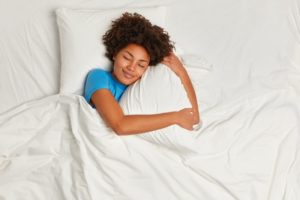 An estimated 40 million or more Americans have TMJ dysfunction, which is a common jaw disorder that causes a variety of uncomfortable symptoms. If you find yourself being a part of this group, you may also notice that you're not getting the quality of rest that you deserve. Read on to learn how sleep apnea and TMJ dysfunction are connected and how getting TMJ therapy in Gramercy Park can help you improve your health and wellbeing.
What is TMJ Dysfunction?
TMJ dysfunction, also known as temporomandibular joint disorder, is a condition that impacts the movement of the two joints that connect your jaw to your skull. Many patients with this condition experience symptoms including the following:
A clicking and popping noise when they open and close their mouth.
Lockjaw, which causes your jaw to lock in one position.
Pain or tenderness in your jaw joints.
Difficulty and discomfort while chewing food.
Swelling on the side of your face.
Neck pain.
Nightly grinding and clenching of teeth.
What is Sleep Apnea?
Sleep apnea is a condition that can have a drastic impact on your overall health by limiting the amount of oxygen that your body receives as you rest. People who have this condition experience obstructed airflow that causes them to wake up gasping for air and makes them feel chronically fatigued, even if they get a full eight hours of rest. Many people try to use a CPAP machine to hold their airways open to allow for ample oxygen flow, but some sleep apnea sufferers find it uncomfortable since you have to attach it to your face.
Connecting the Two Conditions
More studies are beginning to connect TMJ dysfunction to sleep apnea. In fact, many researchers have determined that patients with sleeping conditions have TMJ dysfunction to blame. This is because the position of your tongue can be affected by your bite, which is an underlying issue that causes TMD. When you're asleep, your tongue can obstruct your airflow, causing you to wake up throughout the night gasping for breath.
Finding Relief from TMJ Dysfunction & Addressing Sleep Apnea
Fortunately, there is one simple way to address TMD and sleep in Gramercy Park without making you uncomfortable. Your dentist offers TMJ therapy, which consists of a specially-designed oral appliance that is made to shift your jaw into its ideal alignment as you sleep, keep you from grinding your teeth while also preventing the obstruction of your airway. They also offer equilibration as well, which is a simple adjustment of your teeth to make sure that your bite evenly distributes force and doesn't place too much strain on your jaw joints. With the proper treatment, you'll be able to enjoy improved oral health, physical wellness, and quality of rest!
About the Author
Dr. Ira Newman has been proudly serving his community in New York for years and is passionate about helping his patients find lasting relief from complicated problems, like TMJ dysfunction and sleep apnea. He is a highly skilled and respected professional who is an active member of countless professional organizations, and he is currently an attending dentist at Northwell Hospital/Manhasset where he is the chief of Laser Dentistry and Co-Director of the TMJ/Facial Pain clinic. For questions or to schedule a consultation to address jaw pain or a sleeping condition, visit Gramercy Dental Studio's website or call 212-924-6890.