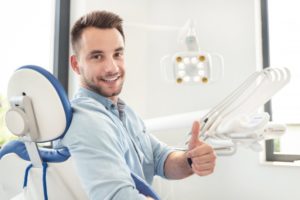 If you've ever gotten nervous at the idea of getting dental work done, then chances are you've heard of nitrous oxide. At the very least, you've heard it called its more common nickname – "laughing gas." By breathing in this clear, odorless gas, even the most anxious patients will feel relaxed enough to undergo their necessary dental procedures. To set your mind at east before your appointment, though, here are four things you need to know about nitrous oxide in Gramercy Park.
1. You Won't Be Put to Sleep
Some types of sedation are meant to put a patient to sleep during a procedure, but that is not the case with nitrous oxide. Once you begin inhaling the gas through a nasal mask, waves of relaxation will course through you. You may feel a general sense of numbness or lightheadedness, but you'll still be fully awake. You'll be able to respond to your dentist's requests throughout your procedure. The effects of the gas should wear off within minutes after the mask is removed, allowing you to go about the rest of your day as normal.
2. Nitrous Oxide Is Perfectly Safe
When administered by a trained sedation dentist in Gramercy Park, nitrous oxide is very safe. Before your appointment, your dentist will discuss your medical history and current medications to determine your eligibility for nitrous oxide. Throughout your procedure, the dentist and their team will closely monitor your vitals and adjust the dosage of the gas you're inhaling as needed.
3. Dentists Have Been Using Nitrous Oxide for Centuries
While most dental technology is quite modern, nitrous oxide has actually been around for centuries! It was discovered in 1793, but in the 1840s, a Connecticut dentist named Dr. Horace Wells was the first to use nitrous oxide to reduce pain and anxiety in patients. Since then, it has been a staple of many dental offices to help patients receive the care their smiles need.
4. Anxiety Isn't the Only Reason to Get Nitrous Oxide
The most common reason why nitrous oxide is administered is to soothe patients' nerves. However, it has plenty of other benefits, including:
Numbing the gag reflex
Decreasing the body's ability to register pain
Helping patients hold their mouth open for a prolonged period of time
Making it easier and safer for people with physical or mental impairments to undergo dental work
Wearing off quickly, letting you resume your normal day afterward
Nitrous oxide sedation can be a great way for you to get the treatment you need without any stress. The next time you visit your dentist, ask them if you can benefit from nitrous oxide.
About the Author
At Gramercy Dental Studio, Dr. Ira Newman offers his patients multiple amenities, including nitrous oxide, to make their dental appointments as smooth as possible. He has more than two decades of experience and belongs to several professional organizations, including the American Dental Association, the Academy of Biomimetic Dentistry, and the Academy of Laser Dentistry. To learn more about how nitrous oxide in Gramercy Park can help you get stress-free dental care, visit Dr. Newman's website or call (212) 924-6890.