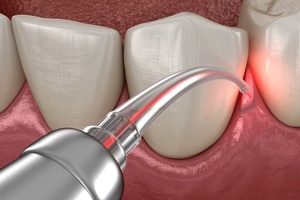 Various common dental procedures are well known, like fillings and extractions; however, you might not be familiar with crown lengthening. If your dentist has recommended the procedure, you probably have several questions racing through your mind, but there's no reason to worry. Although you may not have never heard of crown lengthening before, here's how it can benefit your smile.
Why Do I Need Crown Lengthening?
Crown lengthening is a surgical procedure used to remove gum tissue or bone to expose more of a tooth. The versatile treatment offers both restorative and cosmetic advantages, which is why it's recommended for several purposes, including:
Restorative Procedures
If a tooth has suffered significant decay or damage, there may not be enough of its structure above the gum tissue. Removing some tissue will lengthen the tooth to create a larger surface to ensure a restoration is bonded securely in place. As a result, crown lengthening can aid several specific circumstances, such as:
Tooth broken at the gum line.
Gum tissue extends too far over a tooth.
Not enough tooth structure for a restoration.
New decay under an old restoration.
Cosmetic Procedures
Excess gum tissue can make the teeth appear short and stubby. Crown lengthening is a popular solution to resolve a "gummy smile." If nature gave you extra gum tissue, your cosmetic dentist can reveal more of the tooth surface by removing and resculpting the tissue. The simple procedure can significantly improve your smile by enhancing your gum line. Not to mention, it will lower your risk of certain dental issues, like gum disease. You'll give your confidence a boost while lowering your long-term oral health expenses.
Is Crown Lengthening Safe?
Gum recontouring is safe and minimally invasive thanks to modern dental advancements, like dental lasers. The main concerns are bleeding and infection during the recovery process. You can protect your smile by maintaining your oral hygiene routine at home. Brush and floss your teeth gently while the tissue heals. It's important to call your dentist if you develop bleeding that won't stop, signs of infection, or pain that doesn't improve.
Your dentist will advise you to take caution with hot or cold foods and drinks because your teeth might be sensitive for a few days. If your tooth looks longer than the teeth next to it, contact your dentist. In some situations, a tooth can feel a little loose if any bone was removed.
Reveal a Beautiful Smile
If your dentist has recommended crown lengthening, your dental team will explain the entire process, including how to prepare for your upcoming procedure. Rest assured; you'll feel confident you are making the best decision for your smile.
About Dr. Ira Newman
Dr. Newman earned his dental degree from Emory University School of Dentistry before continuing his training in prosthodontics. He has completed advanced training in many specialties, including laser dentistry, earning him appearances on television shows and news outlets. If you need a qualified dentist you can trust, contact our office today to schedule your consultation for crown lengthening.