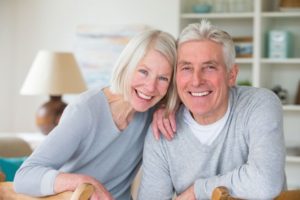 According to the American College of Prosthodontists, roughly 178 million Americans are missing at least one tooth, with around 40 million of them not having any natural teeth left at all! Fortunately, solutions like dental implants are able to beautifully restore missing teeth in terms of look, feel, and functionality. But did you know that by doing this, dental implants can also actually increase your overall life expectancy? Keep reading to learn more!
How Missing Teeth Can Affect Your Lifespan
There are several factors that influence your lifespan, but recent studies point towards your teeth as one of the biggest factors—specifically, how many you have! For instance, research found that patients who had lost five or more teeth by the age of 65 years were more likely to suffer from cardiovascular disease, diabetes, and osteoporosis, all of which can severely limit life expectancy. And the biggest problem with missing teeth is that it usually leads to additional missing teeth—which tends to expedite the rate at which these severe oral health issues can escalate.
Conversely, the Oral Health Foundation also found that people who still have all of their teeth by age 74 were significantly more likely to live until age 100 than those who were missing one or more teeth.
How Dental Implants Increase Your Lifespan & Improve Your Health
Although there are several ways to replace missing teeth, dental implants are in a class of their own. Not only do they fully restore your lost pearly whites, but they also provide all of the benefits that your natural teeth provide for your mouth, jaw, and face. This is because implants replace the entire structure of the tooth from the crown to the roots. The post of the implant fuses with your jawbone and provides foundational support to your jaw and in turn, your whole face.
Since dental implants effectively replace missing teeth and nullify all of the long-term problems associated with them, they directly benefit your longevity! But the benefits don't stop there; here are some of the other incredible benefits that implants have to offer:
They prevent jawbone deterioration and facial collapse, which helps you to look younger.
They don't come with any dietary restrictions, meaning you can enjoy all of your favorite foods once more.
They encourage better overall health since they don't require any specialized care or maintenance.
They prevent dental drift and keep the rest of your natural teeth in place.
When it comes to replacing missing teeth, dental implants are the name of the game—and better yet, they're accompanied by several other awesome benefits. Talk with your dentist if you're curious about receiving dental implants to replace your lost pearly whites and enhance your quality of life.
About the Author
A native New Yorker himself, Dr. Ira Newman is proud to serve patients and families in the Manhattan area. Dr. Newman received his dental doctorate from the Emory University School of Dentistry and is a member of several professional organizations including the American Dental Association and the Academy of Cosmetic Dentistry. His practice is pleased to offer many available services including dental implants. If you have any questions about dental implants or would like to schedule a visit, feel free to contact Dr. Newman through his practice's website or over the phone: (212) 924-6890.