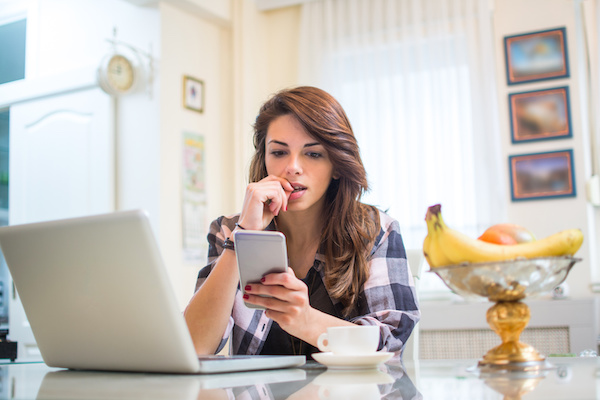 Your TMJ (temporomandibular joint) is a crucial part of your oral anatomy. It makes it possible for you to open and close your mouth – allowing you to eat, speak, and sing your heart out. But if you are experiencing jaw or facial pain due to TMD, or temporomandibular joint dysfunction (commonly referred to as just "TMJ"), then it's time for you to seek treatment. In the meantime, though, there are a few habits you can break to reduce the pain and soreness. Keep reading to find out what they are! 
#1: Don't Chew Gum
Chewing gum is one surefire way to experience discomfort in the jaw. This little habit gives your jaw a real workout, as it must open and close repeatedly for long periods of time. If you are already at risk of TMJ disorder, that's a recipe for serious discomfort.
For a little breath refresher during the day without chewing gum, bring your toothbrush and some toothpaste to work or school. 
#2: Avoid Nervous Habits
Similar to chewing gum, habits like biting the nails, grinding teeth, or clenching your jaw can exacerbate pain in the TMJ. The best way to kick these routines to the side is to try stress management. Exercising, avoiding caffeine, and getting enough sleep can all help you feel calmer and less likely to fidget (to the detriment of your jaw health) during the day.
#3: Keep From Slouching
Good posture is key for so many aspects of your overall health, and the same is true when it comes to your jaw. When you slouch during the day, it affects how your jaw works – putting unnecessary strain on the TMJ. The key to good posture is making sure you aren't fixed in one position for an extended length of time, so be sure to get up and move at least once or twice an hour!. 
#4: Chew on Both Sides
Whether it's an accidental preference or something you do because of your jaw pain, favoring one side when you chew can make TMJ discomfort even worse. The next time you are chowing down, make a conscious effort to chew on both sides of your mouth. This should help relieve jaw pain over time.
#5: Stop Avoiding Treatment!
And finally, another common mistake people make when it comes to TMJ/TMD is delaying treatment. Did you know that by partnering with your dentist, you can say goodbye to chronic jaw pain caused by TMJ once and for all? Treatments like orthodontics, removable appliances, or even stress management can all make a big difference.
You deserve to live without chronic jaw pain. Don't let another day go by without taking action to cure your TMJ!
Meet the Dentist
Dr. Ira Newman is a native New Yorker who earned his DDS from Emory University's School of Dentistry. In addition, he trained at NYU's College of Dentistry and completed a one-year residency at Bellevue Hospital Center. Dr. Newman is one of the most experienced and respected dentists practicing in New York today. To contact Gramercy Dental Studio, reach out through their website or by phone at (646)-969-9086.