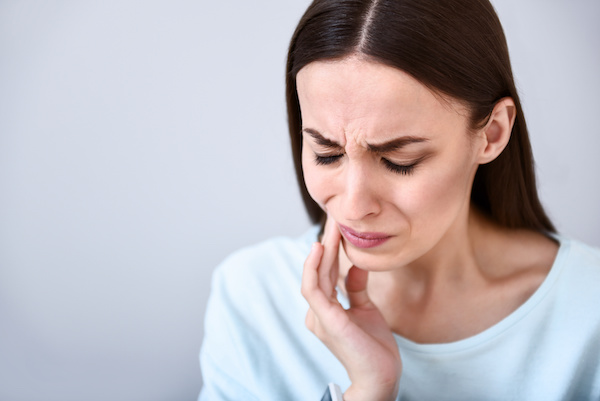 Do you regularly experience jaw pain? Do you hear a click or a pop when you open your mouth? If so, you may have TMD, or temporomandibular joint dysfunction (commonly referred to as just "TMJ"). This can be a painful condition – but relief is available when you seek treatment from the right professional. Many people are surprised to learn that the person to turn to for TMJ therapy is often their trusted dentist! Keep reading to learn more about TMJ/TMD and why a dental expert is the right professional to help you find relief. 
What Causes TMJ?
The TMJ is a complex joint at the back of the mouth where your jaw meets the skull. It allows you to open, close, and move your mouth side to side. When something is off with its alignment, you will feel the effects in chronic jaw/facial pain, migraines, and/or a clicking, popping jaw.
Some of the most common causes of TMJ include:
Misaligned teeth
Injury to the area, like a blow to the face
Teeth grinding or jaw clenching caused by stress
Genetics
How a Dentist Can Help
As a professional trained in all aspects of the oral cavity, it makes sense that a dentist would know a thing or two about how to treat the jaw, too. Plus, there are a number of advanced training courses for dentists to attend to learn more about TMJ/TMD and its treatment.
When you are seeking a dentist to help you with jaw pain, find out about what type of education they have received in this area. Affiliations with institutions such as the Dawson Center for Advanced Dentistry are a good sign that your dentist is at the top of their game when it comes to treating this condition.
There are a few methods of treating TMJ available, and the one that is right for you will depend on the severity of the condition and what is causing the jaw pain.
Some people may notice a dramatic improvement when they make certain lifestyle changes, stress management techniques to combat unconscious teeth grinding and jaw clenching. But most people will require professional treatment.
A removable oral appliance is a small, convenient device that helps by bringing the jaw into the proper alignment while you sleep, preventing misalignment that places pressure on the TMJ.
For people whose TMJ is caused by misaligned teeth, orthodontic treatment can make a big difference by fixing the root cause of the issue.
Don't Wait to Seek Treatment for TMJ!
No matter what is causing your jaw pain, the most important thing is to seek treatment right away. You deserve to live without chronic discomfort – and a dentist can help you achieve just that! Make this year the year you finally do something about your TMJ. You'll be so glad you did!
Meet the Dentist
Dr. Ira Newman has been practicing excellence in dentistry for decades. He brings the ultimate in comprehensive dental care, including as a dentist for TMJ pain, to patients of Gramercy Dental Studio. To learn more about this condition or to start on your own treatment plan, don't hesitate to reach out to Dr. Newman via his website or by phone at (212) 924-6890.