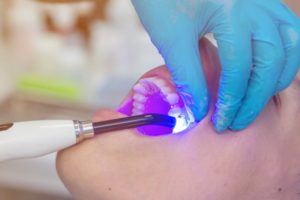 Your smile has needed an upgrade for a while now and you just haven't been sure how you are going to do it. "Is dental bonding right for me" you wonder. There are crowns and veneers to consider, but dental bonding could be the way to go. Dental bonding, aka direct bonding, is thought by most dentists to be best suited for small cosmetic changes, short-term correction of cosmetic problems, or addressing misshaped teeth in areas of very low bite pressure, such as your front teeth. You decide to do your research on dental bonding before investigating other options. What are the benefits? Read on as your cosmetic dentist in Gramercy Park explains.
Why Would You Select Dental Bonding Treatment?
Dental bonding is a procedure in which a tooth-colored resin is applied and hardened with a special light that "bonds" the material to the tooth to restore or improve someone's smile. Potential reasons to have dental bonding done include:
To repair decayed teeth by filling cavities
To repair chipped or cracked teeth
To improve the appearance of discolored teeth
To close spaces between teeth
To make teeth look longer or change their shape
To protect a portion of an exposed tooth root when gums recede
What Are the Advantages of Dental Bonding?
Especially when considering your bank account, dental bonding presents a strong case.
One of the least expensive cosmetic dental procedures
Little preparation is needed
Can usually be done in one office visit unless three-plus teeth are involved
Anesthesia is usually not required
Less enamel is removed compared to veneers or crowns
What Are Important Actions to Make Dental Bonding Last?
To keep your new and improved smile in pristine condition for as long as possible, it's of the utmost importance that you care for it properly. That starts with practicing good oral hygiene, like brushing twice a day, and extends to avoiding bad habits, such as biting your fingernails. It's also a good idea to avoid dark-colored beverages, limit foods that contain copious amounts of sugar and visit your dentist every six months for a checkup and cleaning.
"Is dental bonding right for me?" Well, it is an affordable, relatively simple way to upgrade your smile, but it may not be the optimal choice for everyone. A consultation with your dentist can help you decide!
About the Author
Dr. Ira Newman earned his dental doctorate from Emory University. He has trained at the prestigious Dawson Center for Advanced Dentistry and the Spear Center for Clinical Excellence. Dr. Newman is a member of the American Dental Association and the Academy of Cosmetic Dentistry. If you are interested in direct bonding, he can restore your smile in one appointment with this safe and effective treatment. Schedule an appointment on his website or call (212) 924-6890.