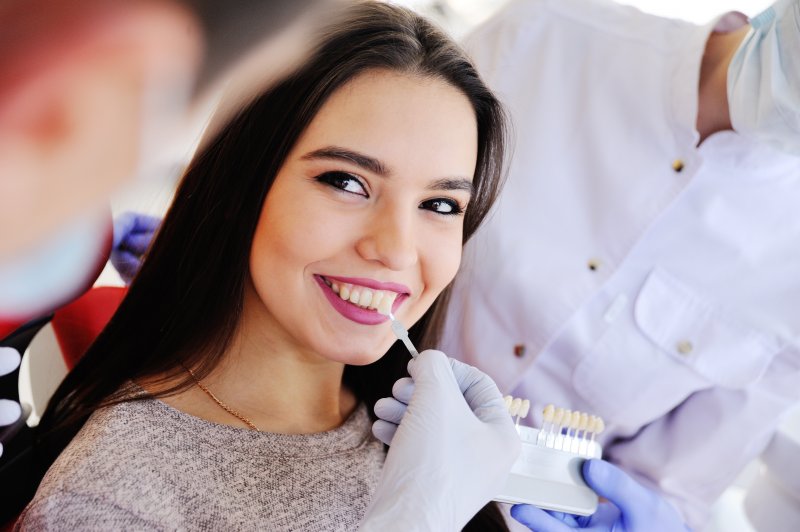 To brighten and whiten your smile quickly, your best bet is to visit a cosmetic dentist. They can easily make your pearly whites live up to their nickname! That said, you may not know which method you'd like them to use. In particular, you may wonder, "Should I get teeth whitening or veneers?" Fortunately, your local New York dentist is here to help you find the best option. To that end, here's a summary of whitening and veneers' differences and which treatment is right for you.
What's Teeth Whitening?
Put simply, teeth whitening is a procedure that whitens your enamel. Using a special bleaching gel, it removes tooth stains and makes your smile up to twelve shades whiter.
Dental practices generally offer at least one of two possible whitening methods: in-office treatment and take-home kits. While the former approach is more expensive, it only involves a one-hour dental visit. Meanwhile, a take-home kit is cheaper but takes roughly two weeks to work. Still, both kinds of whitening provide excellent results.
What are Veneers?
Veneers are small, porcelain shells placed on the fronts of teeth. Their main use is hiding various dental flaws, including chips, stains, cracks, and misalignments. Given their versatility, the shells are known for transforming many aspects of your smile at once.
Veneers' effectiveness stems from their materials. Each shell, you see, uses high-quality porcelain customized for your mouth. As such, they seamlessly match your surrounding teeth' color, size, and shape.
Which Procedure Is Right for You?
As you can see, whitening and veneers can both fix tooth stains. However, they take varying approaches. It's thus crucial to review their differences before you decide anything. These include:
Procedure Function – Whitening works directly on enamel, so it's ideal for treating extrinsic stains. In contrast, veneers are great at hiding intrinsic marks beneath tooth surfaces. Plus, the shells address other issues simultaneously, including chips, gaps, fractures, etc.
Procedure Process – With teeth whitening, treatment is both quick and non-invasive. It'll brighten your smile in days while leaving tooth structure alone. Veneers, though, can take months to place and remove bits of your tooth enamel.
Procedure Lifespan – While its results are immediate, teeth whitening doesn't last too long. The lifespan of its effects is usually six months to three years. On the other hand, veneers can last 15 to over thirty years with proper care.
Besides researching the differences above, also consult your local dentist about treatment. With their knowledge of your oral health, they can suggest whether teeth whitening or veneers best fit your needs.
About the Author
Dr. Ira Newman is a top dentist in Manhattan, New York, having graduated from Emory University's School of Dentistry. He's also an outstanding member of the American Dental Association, the Academy of Cosmetic Dentistry, and the Academy of Laser Dentistry. Overall, his specialties are comprehensive dentistry and emergency dental procedures. Dr. Newman currently practices at Gramercy Dental Studio and can be reached at his website or by phone at (212)-924-6890.