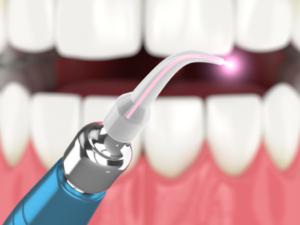 Gum disease, also called periodontal disease, is a common condition that affects millions of people worldwide—in fact, research estimates that over half of all adults over the age of 30 have some form of the disease. It can cause a pretty significant amount of discomfort, but if left untreated, it has the potential to completely obliterate your oral health! Fortunately, it can be addressed with the help of your trusted dentist and a revolutionary, effective approach: laser therapy. Continue reading to learn more about why dentists these days are turning toward lasers to address gum disease.
1. Precision and Accuracy
The lasers used in dentistry are incredibly precise, allowing dentists to target specific areas affected by gum disease without damaging any of the healthy surrounding tissues. This precision ensures the treatment focuses directly on the problem, leading to more effective results. It also ensures comfort; one of the primary concerns for patients undergoing any type of dental procedure is the fear of pain—but later therapy significantly reduces these concerns!
2. Improved Recovery Times
Since laser therapy promotes clotting and cauterizes the blood vessels as it's being performed, there is far less bleeding during and after the procedure. Additionally, the laser's energy helps in sterilizing the treated area, reducing the risk of infection. All of this stimulates the body's natural healing process, too, leading to faster recovery times post-treatment. Patients should be able to return to their regular daily activities much sooner.
3. Longer-Lasting Results
Gum disease is primarily caused by the accumulation of bacteria and plaque along the gumline, often due to chronically poor oral hygiene. Lasers can effectively kill the bacteria and remove the infected tissue, creating a healthier oral environment. By targeting the root of the problem, laser therapy helps prevent the recurrence of gum disease, promoting long-term oral health. It can also be used to re-contour the gumline, offering an impressive aesthetic benefit coupled with its other advantages.
Laser therapy has revolutionized how dentists approach dental care, mainly the treatment of gum disease. If you're concerned about gum disease, don't hesitate to discuss laser therapy options with your dentist; it's likely a suitable answer that is certain to leave you smiling!
About the Author
Dr. Ira Newman received his DDS from the Emory University School of Dentistry and has proudly served patients and families in Gramercy Park, NY for several years. His practice is excited to offer a wide range of preventive, cosmetic, and restorative treatment options, as well as laser periodontal therapy. If you have any questions about the blog or you'd like to schedule a visit for you or a loved one, feel free to contact the practice online or by phone for additional information or assistance. Telephone: (212) 924-6890.