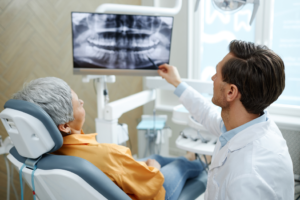 When you see your dentist for a routine checkup and cleaning, although it might seem like a simple visit, there are actually quite a few things on the docket. Your dentist needs to inspect your mouth for any signs of problems, remove built-up plaque and tartar from your teeth, and ultimately ensure that your mouth is healthy and beautiful until the next visit. This routine also includes taking X-rays, and while some patients wonder why this step is necessary, it's important to realize the vital role that it plays in preventive dentistry. Here's more about how X-ray images can help your dentist provide you with the best possible oral care.
How Do Digital X-Rays Work?
X-rays allow healthcare providers to see beyond what's visible to the naked eye. They help in detecting dental issues such as cavities, tooth decay, and infections in their early stages; by identifying these problems early, they're much simpler to treat—and less likely to cause lasting dental damage.
Digital X-rays have become more popular these days compared to their traditional panoramic counterparts. This upgraded technology doesn't rely on film imaging, which can take time, effort, and costly materials, and instead utilizes digital screens with higher-quality images for quicker and more streamlined information processing. Essentially, digital X-rays give your dentist more accurate information in a quicker, easier fashion—which is why they've become the norm!
Benefits of X-Rays in Dentistry
Here are just a few of the many benefits that dental X-rays provide:
Detecting hidden issues – Not all dental problems are detectable without special equipment like X-rays. Things like tooth decay, impacted teeth, hidden cavities between teeth, and more can all be uncovered early on with this useful tool.
Monitoring oral health – In addition to diagnosing existing issues, X-rays help your dentist keep an eye on your oral health over time. They can compare past images to current ones to pick up on trends, since the records can be stored indefinitely.
Early diagnosis of oral cancer – Oral cancer can be a life-threatening condition, but early detection significantly improves the chances of successful treatment. X-rays play an integral part in detecting precancerous conditions.
Ensuring safe procedures – When it comes to dental surgeries, your dentist needs precise information to ensure the safety of the procedure. X-rays allow them to determine the exact position of nerves and blood vessels, reducing the risk of complications.
Studies show that up to 70% of all dental practices use digital dental X-ray machines, and for good reasons; the benefits they provide to both the patient and dentist alike are completely unparalleled. That said, rest assured that the next time your dentist recommends taking X-rays, he's putting your smile's health and beauty first!
About the Practice
The talented team at Gramercy Dental Studio has proudly served the dental needs of patients and families in the surrounding area for several years. The practice is led by Dr. Ira Newman, who received his DDS from the Emory University School of Dentistry. They offer a wide range of preventive, cosmetic, and restorative services, so if you or a loved one is in need of dental care, Dr. Newman and his staff can help! For additional information or to schedule a visit, you can contact the practice online or over the phone: (212) 924-6890.